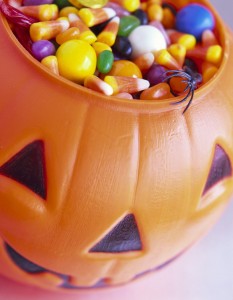 I was at the store the other day, and I instinctively grabbed a bag of candy.  I was thinking "Halloween is around the corner, I need to have something to hand out."
And I stopped myself.
Looked at the ingredients, put it back.  I scoured the shelf for anything remotely healthy, and couldn't find it (of course).
Andrea was at Planet Organic and spotted organic candies (which translates into more expensive sugar in my world).
And I was stumped.
I want to promote health and wellness to the children of our planet, but you know how well received that is.
I remember having to toss apples because of an urban legend (and it was an urban legend) about razor blades in apples.  I lived in a small town, where most everyone knew everyone, and we still had to toss the homemade and healthy treats… because they could have been tampered with (while there have been a handful of these such incidents, they exist largely as urban legend… it is sickening).
Anyways… I would love to hear from the parents out there, or even healthy non-parents – what are you giving out tomorrow night.
Throw it in the comments below, because I am hungry for some inspiration!